Using the latest technology to return patients to a functional lifestyle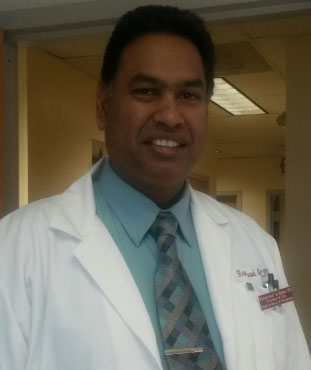 About RAM Orthotic and Prosthetic Lab
RAM Orthotic and Prosthetic Lab, located in Schenectady, New York, offers their patients comprehensive orthotic and prosthetic services and solutions including fitting and manufacturing custom prostheses, braces, and orthotics for the knee, ankle, and foot. Since 2001, the RAM team has focused on providing attentive patient care in a compassionate environment.
Our Care Team
Rampersaud Jai Madho, CPO
Rampersaud Jai Madho (Ram) is an American Board-Certified Prosthetist/Orthotist (CPO) who was dual-certified before the age of 27. At the age of 16, during high school in Schenectady, Ram first entered the healthcare field in nursing and then as a graduate practical nurse (GPN) before entering the prosthetic and orthotic practitioner program in Minnesota. Having earned multiple degrees, certificates, and diplomas, Ram's main goal is to educate himself in order to ensure his patients receive the latest, state of the art technology and one-on-one patient care.
Ram worked with high-level trauma patients at Bethesda Hospital in St. Paul, Minnesota, and at St. John's Hospital in Maplewood, Minnesota while working toward both an undergraduate and graduate-level degree at the same time. With his wife's (Vaydo's) support, Ram completed his residency in orthotics and prosthetics at St. Joseph's Hospital in Elmira, New York.
Since opening his own practice in 2001, Ram has been treating patients in the greater Albany Capital District including clinical sites in Schenectady, Amsterdam, Gloversville, and Glens Falls. He works with patients one-on-one, from the initial consultation visit through the fabrication and fitting process. Each step of the way, Ram educates and teaches his patients how to care for and use their new prosthesis or orthotic to optimize its performance, and he gives them goals to advance their training before their next appointment.
With a focus on helping his patients regain their independence, Ram has extensive experience in the fabrication and fitting of prosthetic and orthotic devices for the upper extremity, lower extremity, and spinal deformity, in addition to the latest myoelectric and microprocessor prosthetics. He also has expertise in nursing, wound care, pain reduction, and preventive care.
To ensure that his patients get the best leading edge technology, Ram travels to many parts of the US, Canada to learn about new technology, techniques, skills, and products that he can incorporate into his practice. If there is something better out there, he wants to know about it. Ram is always eager to hear his patients' input on ideas they have that could be incorporated and customized to their prosthetic and/or orthotics. Initially, patients rely on Ram's expertise, but once they have been educated and trained, they become the teacher.
Vidyawatie Madho
Vidyawatie (Vaydo) Madho is the RAM practice manager, facilitating physician referrals, patient appointments, and coordinating insurance claims.
Schedule an Appointment
In need of a prosthetic, or othotic? Contact us today to see how we can help you regain a full and functional life.